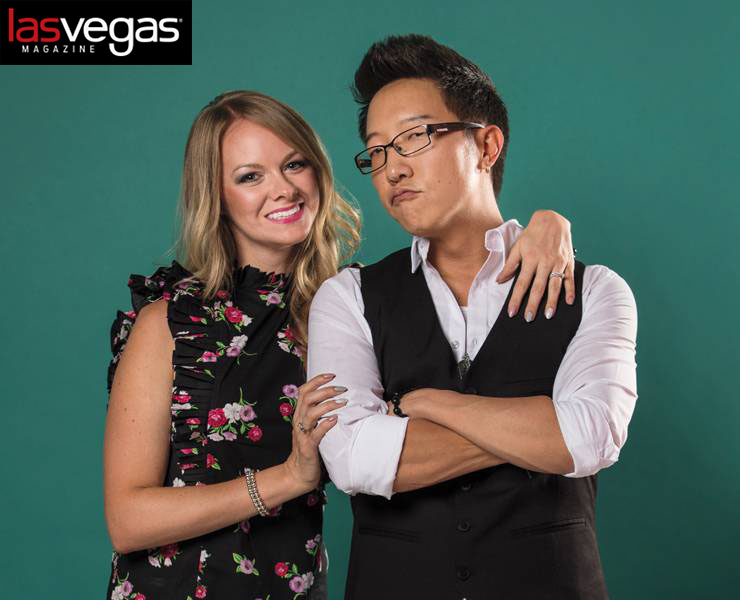 BY SARAH FELDBERG
It's Wednesday at noon, "golden hour" for Instagrammers everywhere, and Paul Ryu and Mindi Rogers are in the thick of it. Or rather, they're taking a break from the thick of it—the picking, editing and posting that makes up so much of Instagram work—to talk about life as a husband and wife social media team.
The division of labor usually breaks down thusly: Ryu takes the photos while Rogers holds the food. She pulls noodles from bowls, double fists matcha green teas and pinches tacos, always flashing a glimpse of perfectly polished nails. "It's super serious in the food world to have a reputable hand that you can use," says Ryu. "You usually use both," Rogers laughs.
That the pair collaborate on @ryusauce is fitting. Together for nine years (married for one), their relationship is based around food, dinners out on Spring Mountain Road, watching the Food Network, cooking at home where their diet tends toward "meat and leaves," introducing Rogers to the complexities of Ryu's native Korean cuisine.
Born in South Korea, 42-year-old Ryu moved to the U.S. at age 13 to attend boarding school. A year later, he moved to San Diego, living alone for six months while he waited for an older sister to arrive. "I would call the pizza guy and go, 'The usual,'" Ryu remembers. "I wasn't really into food as much before I met Mindi."
Now the couple share not just an Instagram account full of slick foodie photos, but a new business, helping mom and pop restaurants harness the potential of digital marketing and social media to stand out in a city chock full of dining options.
Like their photo feed, the company is a team effort. As one client said, what makes them stand out is a sense of hospitality, those manicured hands, offering up an ice cream cone or hamburger, welcoming you to take a bite.
Follow Paul and Mindi @RyuSauce on Instagram!
SOURCE: LasVegas Magazine By: SARAH FELDBERG